Soax.com Review 2023
SOAX, a very popular software in the world of proxy solutions worldwide, is a rotating personal and mobile proxy service provider offering quality, affordable and reliable solutions to all types of proxy users. The service is a rotating residential proxy provider deployed around the world.
It is a unique platform with over 8.5 million mobile and dedicated IP addresses from various geographical locations. This allows you to filter your targeting to specific cities or mobile carriers.
The best thing about SOAX is that even the most basic SOAX plan gives users access to all the great features and the entire pool of available IP addresses.
Let's take a closer look at the software.
Soax Solutions
Proxy Pool
Top Anonymity
Best in Reliability
Feature-Packed Free Trial
Round-the-Clock Support
Auto IP Address Rotation
Easy Authorization
Powerful Dashboard
Node Accessibility
Use Cases
Social media management: Efficiently manage multiple accounts, engage with audiences, and expand online presence.
Web scraping: Gather data from websites without restrictions, enabling market analysis and competitor research.
SEO optimization: Monitor search engine rankings, perform keyword research, and analyze competitor strategies for improved visibility.
Ad verification: Ensure the validity and integrity of online advertisements by verifying their display and performance.
E-commerce enhancement: Optimize e-commerce operations by monitoring prices, analyzing market trends, and conducting competitive analysis.
Brand protection: Safeguard digital assets, monitor online reputation, and combat fraudulent activities to preserve brand integrity.
Locations
Soax may not offer as many proxies as Oxylabs or some other reputable proxy providers, the variety of locations is what it's all about. You can get proxies in more than 120 countries around the world, and as you can see from the interactive map on the website, you can get proxies in almost every country on the five continents.
On the map above you can see locations with high, medium, or low number of proxies available. If you click on a specific country, available providers will be displayed. You can also see where there are private or mobile-only proxies.
Pricing
SOAX offers traffic-based monthly plans. Unlike most of the competition, it also takes into account the number of ports you can access simultaneously. This limits SOAX a bit, but only if your crawls are very fast.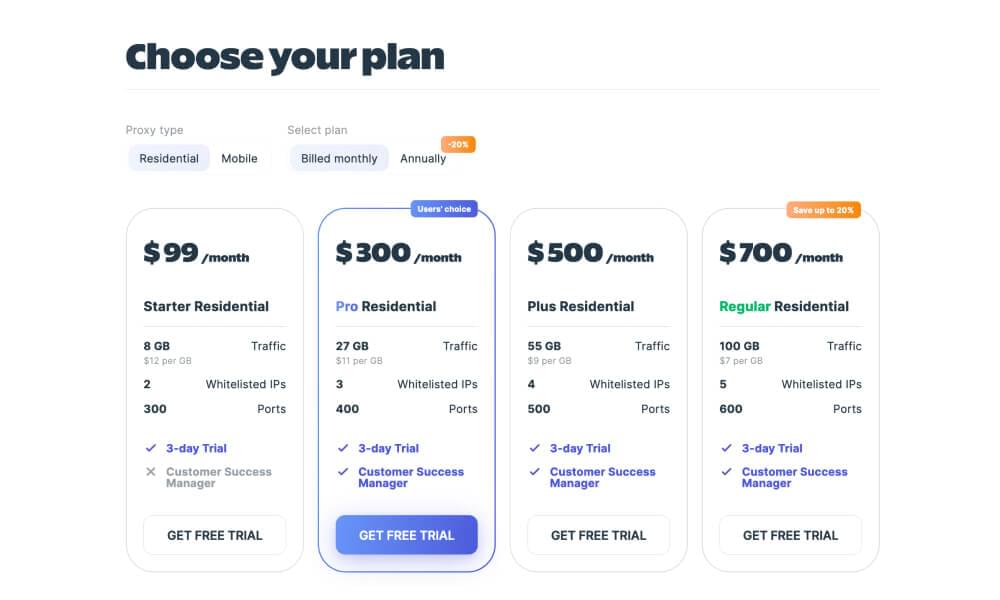 Plans start at $99. For that price, you get 8GB of data ($12/GB) and 300 ports. The largest plan shown offers 2TB of data for $3/GB. If you would like more data or more ports, please contact SOAX staff for a custom quote.
In addition to the public price, you also get small upgrades that are barely noticeable until you look, such as more whitelisted IPs. However, failure to do so has no significant impact on the service.
Payment
Soax offers seamless payment options that cater to the diverse needs of its users. you can enjoy the convenience of multiple payment methods, ensuring a hassle-free experience. Whether you prefer traditional options like credit cards and PayPal or seek more privacy-oriented alternatives like cryptocurrencies, Soax has got you covered.
Their secure payment gateway guarantees the safety of your financial information, allowing you to make transactions with peace of mind.
Moreover, Soax's flexible payment plans enable you to choose the most suitable package based on your budget and usage requirements. By prioritizing user convenience and security, Soax ensures that your proxy service experience is not only top-notch but also tailored to your preferences.
Scraping Performance 
Highly specialized use cases (such as high crawling performance) are one of the criteria to be a good agent. Before subscribing to a proxy provider, most proxy users, especially those who use it for web marketing, compare its capabilities in terms of web scraping and many other automation cases.
Soax Proxy is one of the best proxy providers for web scraping and crawling. It is the most popular agency provider among internet marketers for ad verification, price monitoring, SEO monitoring, travel aggregation, and many other automated use cases.
This is due to their excellent scratching properties.
Proxy Connection Speed
A proxy provider's connection speed is a major factor in determining how many users use their service. This is because no user wants to waste production time on a slow proxy provider. Soax reverse connection proxy is one of the most popular proxies due to its excellent connection speed.
Soax proxies also have incredible response times, and unlike most home proxies, their home proxies are fast. Thus, users can be sure that they save time permanently while surfing the web.
Dashboard
Soax makes the dashboard as easy and intuitive as possible for new users. Learn all the nuances of the process in just a few minutes.
Easily set up and control all proxies from the dashboard. Quickly access valuable insights, such as traffic usage data, and critical choices, such as whitelisted IP addresses.
Additionally, you can easily create sub-users, use other data collection methods, export your proxy list to TXT, CSV, or HTML, or share it with other users via a personal link.
You can also quickly evaluate e-commerce pricing practices and websites. Instantly collect any data from online retailers or product websites.
On top of that, you even get proxies from all over the world. Next, you can also filter IP addresses by country, region, city, or provider directly in the dashboard.
Documentation
When it comes to proxy service documentation, Soax is the provider that stands out by offering clear and comprehensive resources. The documentation covers setup guides, API integration instructions, troubleshooting tips, and frequently asked questions.
These resources help Soax users easily configure proxies, integrate them into applications, resolve issues, and find answers to common queries. Choosing Soax as your provider ensures a smooth and efficient experience with their well-organized documentation.
Customer Support
Soax offers customer support through various channels, including email and live chat. They have a support team to assist users with any inquiries, technical issues, or billing-related questions.
The responsiveness and quality of support may vary, but Soax aims to provide timely assistance to its customers.
We Like
Excellent Location Coverage
Extensive Proxy Network Proxy Connection Speed
Neat and intuitive dashboard
Flexible Payment Options
100% anonymous & secure
24-Hour Customer Support
Based on the Soax feature review, it is clear that Soax is a proxy provider that provides efficient and effective proxy services. Their proxies are suitable for many use cases and also cover quite a few locations.
Soax provides users with a large proxy pool and high compatibility with many websites. Their specific use case is a key selling point that sets them apart from other proxy providers in the market. This makes Soax one of the best and most recommended proxy providers.
However, before hiring any of their services, it is best to compare their disadvantages with the benefits they offer. If you are happy with that, especially the slow email support and high prices, then you can choose this proxy provider.