Privateproxy.me Review 2023
As the name suggests, PrivateProxy is a service provider mainly focused on private proxies. Yes, this is probably one of the provider's biggest draws: the proxies come from their own network array, which translates into greater reliability on the user's side.
PrivateProxy has been operating since 2010 and is from Hong Kong. It is a subsidiary of AquaNetworks HK Limited, a company engaged in cloud IT services. We are particularly interested in how the website handles user data and therefore look for the data protection declaration. To our surprise, it wasn't available on the website.
However, the website states that it does not store any data about your actual IP address, browsing history, connection time, or bandwidth usage. In this case, users can be sure that the provider will not log their private data.
That being said, does this site have what it takes to compete with other premium proxy service providers? Let's find out!
PrivateProxy Solutions
Dual Authentication Method
Choosing Specific Locations
Up to 10 Authorized IPs
Refund Policy
Instant Allocation of Proxies
One Free Swap
Excellent Customer Care
Option To Trial Three Proxies For 7 Days
Use Cases
All Business Purpose
24/7 Live Support
Wide Pool of Proxies
Super Fast Connections
Proxies Ideal for Scraping
Proxies for Unique Use Cases
Locations
PrivateProxy keeps the location of its proxy servers private. Aside from the fact that they have servers in the US, UK, Germany, Netherlands, and Hong Kong, there isn't much information about their website or customer support. Once registered as desired, you can manually request a proxy from any of these locations.
When we bought a dedicated proxy and tested the geolocation of the proxy, we found a proxy from Kazakhstan. The five U.S. surrogates are from Arizona and Florida. The rest of the agents are from Germany. These proxies are accepted by default, which we think is beneficial for assigning different positions.
PrivateProxy claims that they do not resell proxies and own all servers, which is a plus. Proxies are also non-sequential, which is often a problem for many, as sequential IPs increase the likelihood of all proxies getting banned.
Pricing
As the name suggests, the only type of service PrivateProxy offers is private proxying. They do not offer VPN or shared proxies or residential proxies.
Their private dedicated data center proxies belong to the highly anonymous elite and only work with HTTP/HTTPS IPv4 protocols.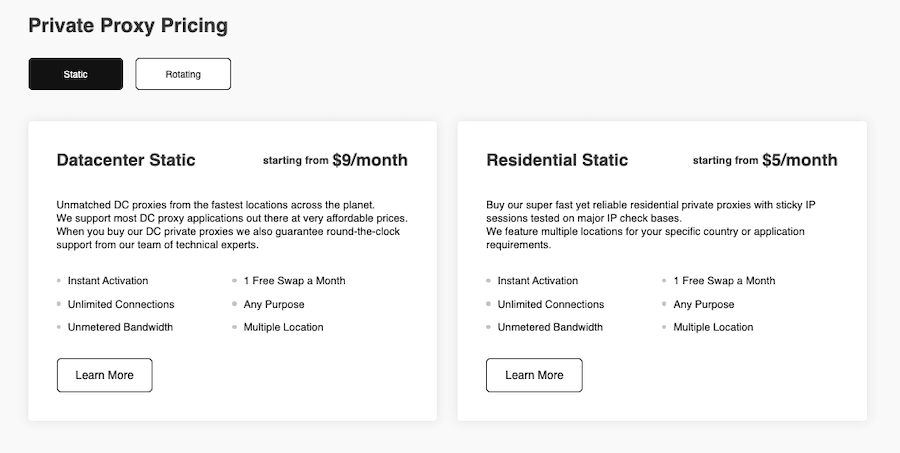 PrivateProxy Pricing plans are also straightforward. Although you are free to use a proxy, there are no special packages. So the pricing plan is the same for all purposes, whether it is ticketing, social media, or data scraping.
As you can see from the current prices in the table below, the price per agent drops significantly if you opt for a larger package. This is very sweet and will help a small business a lot.
Payment
PrivateProxy offers convenient and secure payment options for its users. They support various payment methods, including credit cards, PayPal, and cryptocurrencies, providing flexibility for customers to choose their preferred payment option. The payment process is streamlined and user-friendly, allowing for easy transactions.
PrivateProxy prioritizes the security of payment information and implements measures to safeguard customer data during the payment process. Overall, they ensure a smooth and secure payment experience for their users.
Scraping Performance 
PrivateProxy is known for delivering reliable and high-performance proxies that are well-suited for scraping activities. With dedicated private proxies, users can experience faster speeds and improved scraping performance compared to shared proxies. By having a dedicated proxy, users can minimize the risk of IP blocking, ensuring uninterrupted scraping sessions.
The performance of scraping activities using PrivateProxy can vary depending on several factors. These include the complexity and size of the target website, the number of concurrent scraping connections, and the geographical proximity between the proxy location and the target server.
To optimize scraping performance, PrivateProxy offers a diverse range of proxy locations worldwide. Users can choose proxies from specific regions or countries that are closer to their target websites, reducing latency and improving scraping speed.
It's important to note that scraping large volumes of data or targeting heavily secured websites may still present challenges, as some websites may have measures in place to detect and block scraping activities. In such cases, additional precautions like rotating proxies or implementing scraping techniques to mimic human behavior may be necessary.
Overall, PrivateProxy provides a solid foundation for scraping tasks, offering dedicated private proxies and a range of proxy locations that can enhance performance and minimize disruptions during scraping activities.
Proxy Connection Speed
Speed ​​is one of the most important aspects to consider when buying a proxy. IP tends to create a bottleneck that affects your connection speed, which is a bad idea because the quality is mediocre.
Fortunately, you don't have to worry about such issues when using PrivateProxy. These IPs exceeded our expectations when we checked their speed and performance reliability. The provider's upload and download speeds are excellent: more than 70% of IPs exceed 240 Mbit/s.
With such incredible speed, these proxies work effortlessly for most use cases. Such speeds are likely to be suitable for bandwidth-intensive scenarios such as ad review, data scraping, general market research, and streaming and gaming.
| IP | Proxy location | Ping from Georgia, USA (ms) | Ping from London, UK (ms) | Ping from Quebec, CA (ms) |
| --- | --- | --- | --- | --- |
| 31.133.217.3 | Kazakhstan | 139.8 | 8.3 | 84 |
| 146.120.229.83 | Germany | 139.6 | 8.4 | 84 |
| 107.178.98.2 | AZ, USA | 11.6 | 139.3 | 66.4 |
| 199.30.51.160 | AZ, USA | 11.6 | 138.6 | 66.4 |
| 46.228.193.249 | Germany | 153.7 | 9.8 | 92 |
| 148.163.70.3 | AZ, USA | 11.7 | 133.4 | 66.4 |
| 5.104.105.4 | Germany | 153.9 | 9.9 | 91 |
| 104.161.21.2 | AZ, USA | 11.6 | 137.7 | 66.2 |
| 173.46.83.2 | FL, USA | 43.6 | 99.7 | 29.2 |
| 37.143.62.154 | Germany | 156.1 | 15.5 | 88.1 |
However, you should be aware that these speeds may not be achievable when implementing a proxy. There are several factors that affect the speed of a proxy such as B. Your ISP, distance, and location from the server.
Dashboard
PrivateProxy's dashboard is user-friendly and provides a centralized control panel for managing and monitoring proxy services. It allows easy navigation, and access to proxy settings, and provides usage statistics for efficient management.
The dashboard simplifies proxy configuration and offers advanced features like proxy rotation and authentication options. It's a convenient platform for optimizing and monitoring proxy usage.
Documentation
PrivateProxy provides comprehensive and detailed documentation to assist users in utilizing their services effectively. It covers various aspects, including setup guides, configuration instructions, troubleshooting steps, and frequently asked questions (FAQs).
Whether you are a beginner or an experienced user, the documentation offers valuable information and step-by-step instructions to help you get started and address any issues that may arise. Is well-organized, easy to navigate, and often supplemented with visual aids and examples for better understanding.
Additionally, PrivateProxy regularly updates its documentation to ensure it remains current and relevant. With its extensive resources, PrivateProxy ensures that users have the necessary information and resources to make the most of their proxy services.
Customer Support
PrivateProxy offers a responsive customer service team that provides prompt and knowledgeable support to address users' inquiries and concerns. They are committed to ensuring a positive user experience by offering helpful documentation and resources, making them a reliable source of assistance for customers.
We like
SOCKS5 support
High speeds
Instant proxy delivery
Dual authentication
You can authorize up to 10 IPs
We dislike
Bitcoins or any other cryptocurrency, Payza, Bank transfer, and similar popular payment methods are not accepted.
The Trial subscription requires billing information.
PrivateProxy is a well-balanced service that doesn't need any gimmicks to succeed. We have been happy with their proxy throughout our use. These proxies are very resilient and passed our tests with flying colors. These proxies have fast ping responses, are very fast, and have excellent IP compatibility – they are acceptable to almost all users.
Due to their high speed and low ping, these proxies are ideal for data crawling bots and SEO scraping. Other uses of the proxy provided by PrivateProxy include ticketing and coping shoes. Thanks to the high internet speed, you can efficiently surf the web and download or stream information. While the site is visually appealing, efforts should be made to expand its functionality.
Overall, our experience with PrivateProxy has been very good. We are very pleased with their service and would recommend them without hesitation.