Packetstream.io Review 2023
PacketStream is a peer-to-peer proxy network that allows users to share their unused bandwidth and earn money in return. The service claims to be the world's first and largest residential proxy network. In this review, we will look closer at PacketStream and evaluate its features, pricing, and overall effectiveness.
PacketStream Solutions
PacketStream allows customers to access web content that might otherwise be blocked or modified when using a traditional VPN or proxy service.
Residential use cases include:
Private Browsing: Prevent IP tracking and commercial data mining. Keep your online identity safe.
IP Ban Prevention: Relay your traffic through residential IPs without being blocked or banned from web services that would normally block VPN/proxy access.
Geolocation Control: Specify the geolocation of your request and gain the benefits of viewing region-locked content from any location.
Commercial use cases include:
Price Comparison: Learn how competitors algorithmically price their offerings to users all over the world.
Brand Protection: See how your brand is being represented online and search for improper use of IP and trademarks.
QA Testing: Test the performance and availability of your own web & mobile services from any geolocation in the world.
Ad Verification: See exactly what your users see when they visit your website or mobile app. View your own pages to ensure your ad partners aren't serving misleading advertisements and violating your ad policies.
Web Scraping: Use web automation tools for market research & business intelligence without being throttled.
Pricing
PacketStream offers a flexible pricing model that allows users to choose the plan that best fits their needs. The service offers three different pricing plans: Basic, Premium, and Enterprise. The Basic plan starts at $0.10 per GB and is ideal for users who need occasional access to residential proxies. The Premium plan starts at $0.15 per GB and is designed for users who need more frequent access to proxies. The Enterprise plan is customized for high-volume users and has custom pricing based on specific requirements.
PacketStream Proxy Speed ​​& Performance
PacketStream website does not provide any proxy speed information, which is disappointing since speed is an important factor to consider when choosing a proxy. It only shows the uptime of the agent, which is 99%, which indicates high reliability. We tried to learn more about the speed and performance of these proxies, so we did a lot of reviews. We found that the PacketStream proxy was not particularly fast. They offer below-average connection speeds. So if you're looking for a blazingly fast home proxy, you should probably look elsewhere. On the plus side, proxies tend to have a high success rate, which is great considering their affordable prices. Plus, its proxy pool actually consists of IPs from private devices, so you don't have to worry about their trustworthiness.
Results with Popular Websites
PacketStream's results with 10 popular websites (1,000 connection requests each, US location)

| | | | | |
| --- | --- | --- | --- | --- |
|   | Success rate | Errors | Blocks | Response time |
| AliExpress | 92.07% | 7.93% | 0% | 4.15 s |
| Amazon | 85.92% | 9.95% | 4.13% | 4.73 s |
| Bing | 91.51% | 8.49% | 0% | 3.64 s |
| Booking | 92.88% | 7.12% | 0% | 5.19 s |
| Craigslist | 86.34% | 13.66% | 0% | 6.33 s |
| Facebook | 88.00% | 12.00% | 0% | 5.25 s |
| Google | 56.02% | 24.44% | 19.54% | 2.58 s |
| Instagram | 80.66% | 15.40% | 3.94% | 5.66 s |
| Walmart | 89.35% | 10.65% | 0% | 5.03 s |
| Yahoo | 91.98% | 8.02% | 0% | 4.05 s |
| Total | 85.40% | 11.82% | 2.78% | 4.73 s |
For cheap providers with limited proxy pools, PacketStream does well. Requests are processed successfully 85% of the time, with response times of less than 5 seconds. However, it is clear that these IPs have been overused by major targets such as Google and Instagram. I wouldn't be surprised if they compare to other popular sites, such as B. Shoe Store, have had worse experiences.    
Selling Bandwidth at PacketStream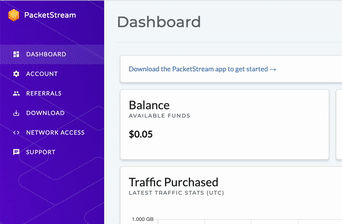 For decades, people have been looking for ways to make passive income online. Most of them tend not to be as profitable as they first sound, and this is the case with PacketStream. You can make some extra money by selling bandwidth, but for most people, it's a small amount.
PacketStream Earning
The big question here is, "How much money can I make from PacketStream?" It depends on most things. There are many factors that affect your earnings, not the least of which is your location. Just because you're running the software doesn't necessarily mean your IP is being used as a proxy. Chances are much higher if you live in certain regions like the US, but even then there's no guarantee. In short, you can only make money if someone is using your IP. The good news is that PacketStream doesn't have any region-based revenue rates. The company uses a very simple system where you earn $0.10 for every gigabyte of bandwidth sold, no matter where you live. You only need to make $5 or more to withdraw, and you can use PayPal or Stripe as your payment processor. The company takes a cut of every transaction, but only 3%. On average, the average user can expect to make between $5 and $15 per month using PacketStream. That's definitely not a lot, but if you can somehow sell multiple IPs at once, it can add up. Remember, it doesn't make much difference if you sell bandwidth from multiple devices on the same network.
Signing Up as a Packeter
The process of registering as a bandwidth provider is easy, all you need is a username, email address, and password, but this time you'll need to opt-in as a "Packeter" before you can access the dashboard. The dashboard is divided into two sections – one for buyers and one for sellers – so you can easily experiment with both as needed.
PacketStream is a platform that allows users to earn money by sharing their internet bandwidth. Here are some tips to help you make more money with PacketStream:
Sign up for multiple devices: PacketStream allows you to use multiple devices to earn more money. So, sign up for PacketStream on all the devices you have and use them simultaneously to earn more money.

Increase your bandwidth: The more bandwidth you have, the more data you can share and the more money you can earn. So, try to increase your internet bandwidth to increase your earnings on PacketStream.

Use a faster internet connection: If you have a faster internet connection, you can share more data in less time and earn more money on PacketStream.

Optimize your computer for performance: Make sure your computer is optimized for performance, as this can help you share data more efficiently and earn more money on PacketStream.

Keep PacketStream running: To earn more money on PacketStream, you need to keep the application running on your device as much as possible. So, try to keep the application running in the background while you're not using your computer.

Refer friends and family: You can earn extra money on PacketStream by referring friends and family to the platform. PacketStream offers a referral program that rewards you for every user that signs up using your referral link.

Participate in bonuses and promotions: PacketStream occasionally runs promotions and bonuses that can help you earn more money. So, keep an eye out for these opportunities and participate in them when possible.
Overall, to make more money with PacketStream, you need to maximize your internet bandwidth, optimize your computer for performance, and keep the application running as much as possible. Additionally, participating in referral programs, bonuses, and promotions can help boost your earnings on the platform.
Running the Software
Unlike buyers, sellers must download and run a piece of software every time they want to make money. The software takes up approximately 100MB of disk space and is available for Windows, Mac, and Linux. As long as you run the software, your IP is integrated into the PacketStream network, acting as a private proxy node. You have no control over who or how your IP address is used, so there is certainly some risk.
Support
The only way to reach PacketStream is by email. The lack of other customer support options is a disadvantage as most people these days prefer live chat or phone support to get the answers they need as quickly as possible. On the plus side, you can easily find a detailed FAQ page on the website. It contains many questions and answers about bandwidth sharing and proxy services.  
We like
Ethically-sourced residential IPs
High anonymous IPs
Affordable prices
Country Targeting
Decent proxy pool size
Good location coverage
Rotating and static sessions
Username/password authentication
HTTP(S) support
High uptime
High success rates
Reseller API
A chance to get a free trial
Pay-as-you-go pricing model
Easy to purchase
We dislike
Only residential proxies
Slow speeds
No SOCKS support
No IP authentication
Starting price at $50
No city and state-level targeting
Lack of customer support options
No money-back guarantee
Our Take
Whether you're looking to buy or sell bandwidth,
PacketStream
is a great option, but for sellers, the service is definitely better. Despite a relatively small network,
PacketStream
offers very good performance, and its price is among the best on the market. We wouldn't necessarily recommend the service for larger companies, but if you need an inexpensive proxy to bypass geo-restrictions or censor content,
PacketStream
is a great option. The main downsides here are the lack of city-level targeting, the SOCKS5 protocol, and lackluster customer support.
PacketStream
is still very new, so some kinks may be ironed out in time, especially if the company continues to grow rapidly. Network size can be a bit problematic because it relies on the active participation of users. Companies will be able to attract more colleagues by offering better rates or other incentives.