Oxylabs.io Review 2023
Oxylabs is a provider of residential and datacenter proxy services. They have been in the market since 2015 and have grown to become one of the leading providers of proxy services. They offer inventive proxy solutions for various processes like web scraping, data collection, and many more. The claims are enormous and sometimes sound too true to believe.
Oxylabs Solutions
Countries Covered –

 195

Residential proxy pool – Over 100 million
Datacenter proxy pool – Over 2 million
Shared Datacenter proxy pool – Over 29K
Language Supported – Chinese and English
Types of Proxies – Datacenter, shared datacenter, dedicated datacenter, residential, static residential, SOCKS5, mobile, and rotating ISP proxies
IP Rotation – Each session and sticky session
Free Trial – 7 days
Refund Policy – 7 days
Oxylabs API  – Web Scraper
Jurisdiction – Lithuania
Oxylabs' range of proxy solutions is the best on the market. We've tested all of these proxy solutions, now we'll show you how they work.
Residential Proxies
Oxylabs offers a stable and easy-to-use extensive network of private proxies. Since these proxies are offered by verified ISPs, IP bans are less likely. We use them to bypass city and state-level geo-restrictions and work without bans and captchas. The proxy network spans 195 countries, enabling access to blocked websites from anywhere. One of our favorite things about the Oxylabs home proxy solution is that there is no charge if concurrent sessions exceed the recommended limit, as it supports unlimited concurrent sessions. In this way, web scraping is easily extended through its proxy servers. When testing Oxylabs' residential proxy, we experienced an incredible speed of 0.06 seconds. This better speed is possible because a reliable proxy infrastructure supports it.
Shared Data Center Proxy
With a pool of over 29,000 shared IP addresses, Oxylabs provides a reliable shared data center proxy service that allows you to scrape web data across multiple geographic locations. We know that shared data center proxy locations are not as comprehensive as private proxy locations. Only 15 locations are covered, which should be fixed by Oxylabs ASAP.
The service is backed by automatic proxy rotation, which gets us a new IP address for each new request. Since it supports sticky sessions, you can reuse the IP for different requests as long as your session is active. You can create unlimited concurrent connections and manage multiple sub-users with a dedicated account manager.
Dedicated Data Center Proxy
You can choose a dedicated data center proxy from an extensive proxy pool of 2 million proxies. Oxylabs' private data center proxy network spans 188 locations and offers 780 subnets. Secure web scraping is safe with support for innovative protocols like SOCKS5, HTTPS, and HTTP. We have experienced the stable performance and high uptime of these proxies. Since there is no bandwidth limit, we can scrape as much data as possible. It's worth mentioning here that you generally like the impressive integrations with these proxies. They integrate easily with IP address management tools and browser extensions. Oxylabs' excellent support for developer resources allows you to scrape the web with endless possibilities (tools for web scraping).
Mobile Proxies
Get ready for tons of mobile proxies that will help you unblock geo-restricted websites without facing IP blocking or IP bans. With automatic IP rotation, you get a new set of IP addresses with every new request. You can filter IP addresses by ASN and country. Getting started and using mobile agents is easy because they are well-integrated and can be managed from a single endpoint. Instead of importing a list of proxies, you can use pre-vetted mobile proxies. Mobile Agent supports automatic mobile IP rotation and is compatible with 3G, 4G, and 5G.
Rotating ISP Oxylabs Proxies
You can easily trust Oxylabs when you need reliable rotating ISP proxies. They let you enjoy the benefits of residential and datacenter IPs in one go and perform real-time web scraping at high speed. These proxies have a longer session time. We could scrape for over 2 hours without connection breaks or connection errors. This connection stability is excellent and can help continue scraping without any glitches.
Static Residential Proxies
Lastly, we have a static residential proxy solution of Oxylabs to discuss. These proxies combine the offerings of datacenter and residential IPs to make human-like scraping possible. These are highly anonymous proxies with impressive premium features. You can choose from a 100K+ static IP proxy pool and gather public data from the most rigid and challenging targets. The average uptime is 99.9%, and protocol support includes HTTP, HTTPS & SOCKS5 protocols. Oxylabs provide a long list of locations for their proxies. They are potentially almost all the locations of the world, Every county there is. This long list of numerous locations in the world provides customers with a better opportunity to select the best location for their proxies. If you're looking for specific locations for your proxies, Oxylabs should be your choice! Following are some of the most popular locations provided by Oxylabs for their proxies.
Locations

USA, Canada, Italy, Turkey, Spain, UK, Greece, Netherlands, Portugal, Israel, Poland, Ukraine, Belgium, Germany, Sweden…
Ping Test & Proxy Speed Test
Now that we have introduced Oxylabs' proxies to you it is time to test them. In this test, we are checking the speed and the latency or ping.
The speed is the amount of data that can pass through the gateway each second, while the latency is the time it takes for the data to go from the host to the server and back. So, a good proxy should have great speeds and small ping.

As usual, the first test is on our VPS with no proxy. That is so that we have something to compare the test results with. Next, we took 10 US and 3 UK, and Canadian proxies and ran our tests.
Pricing

Oxylabs is not at all budget-friendly; their monthly plans go as high as 6,000 USD. They sell 1GB for a starting price of $15, and you have to purchase at least 20 GB. 
Documentation
Another great feature of the dashboard is the extensive documentation and helpful tutorials. Clicking the "Documentation" button on your side panel will take you to  Oxylabs' documentation site, where you can find all the information you need to set up and run your services. Here you can find step-by-step setup guides, integration tutorials, and other important information.
How to authorize
You have two ways to authenticate your sessions when using Oxylabs' proxies: with a username and password and by whitelisting your IP.
If you want to authenticate by whitelisting your IP first, you need to navigate to the IP Manager section from the left navigation panel in the dashboard.
IP Manager
Click on "Whitelist IP Addresses" and enter your local IP address. You can add more than one IP address, but make sure to keep each one in a separate row. Finally, click on "Whitelist" and you will see your IP address in the list.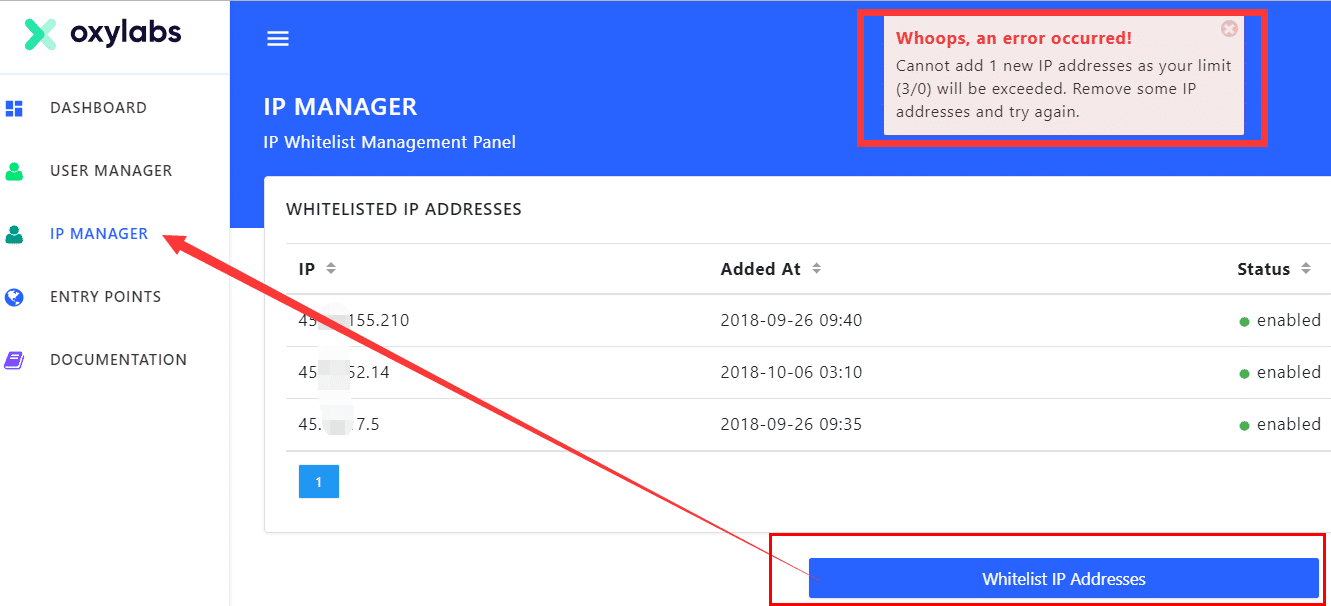 Whitelist IP Addresses
The second type of authentication is with a username and password. You can use the username and password associated with your account, or you can create sub-users so that multiple people can use the proxies. To add a sub-user, go to the User Manager in the navigation panel on the left.
User Manager
Click on "Create User" and enter the desired username and password. Once completed, click on "Create" and you will see the new user in the list.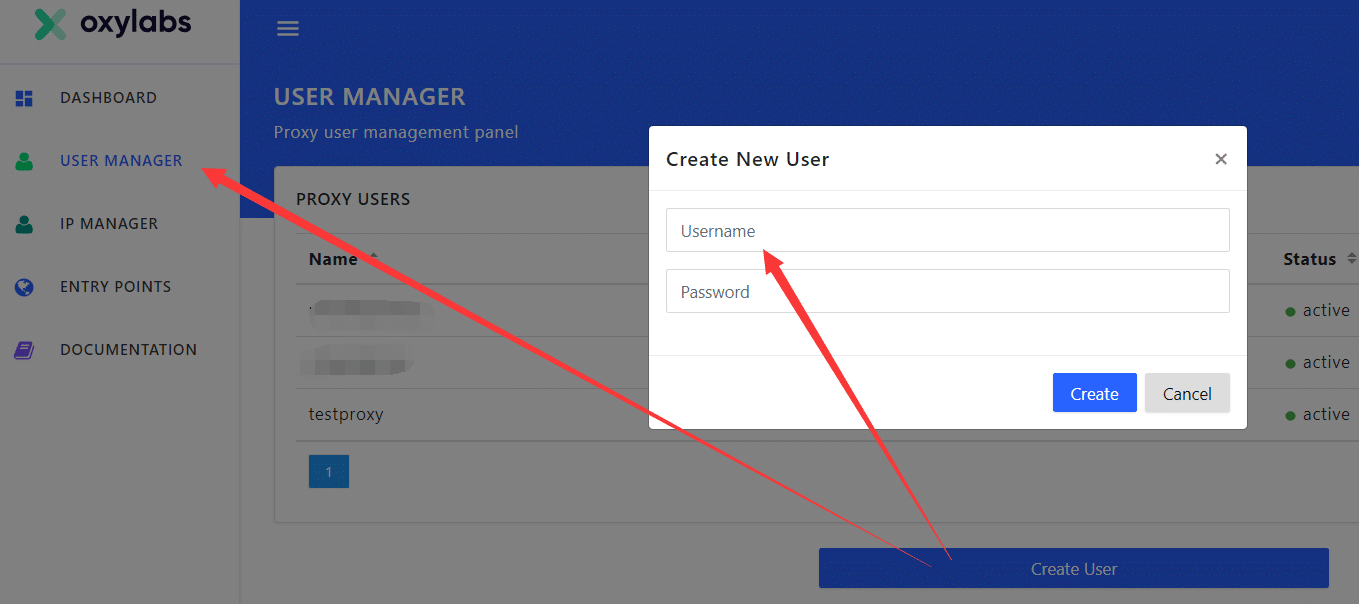 Statistics
The dashboard makes it easy to track usage and monitor your services. On the statistics page for the residential proxies, you can view traffic, requests, as well as a daily breakdown of activity.
The web scraper API's statistics page offers a breakdown of pages, average response time, average daily requests, and total requests.
We Like 
Good variety of products and packages
Unlimited concurrent sessions
7-day trial
Global coverage
24/7 support
We Dislike 
Expensive
Support only by email
No SOCKS support
Our Take
Oxylabs is a company that does most things right. With a pool of over 30 million IP addresses in every country in the world, they're a great choice for just about everyone.
Plus, you can get proxies from almost every major city in the world. Using the dashboard is easy, and the support team is on call 24/7 should you need help. But all of this comes at a price, and Oxylabs agents aren't cheap.