IPRoyal.com Review 2023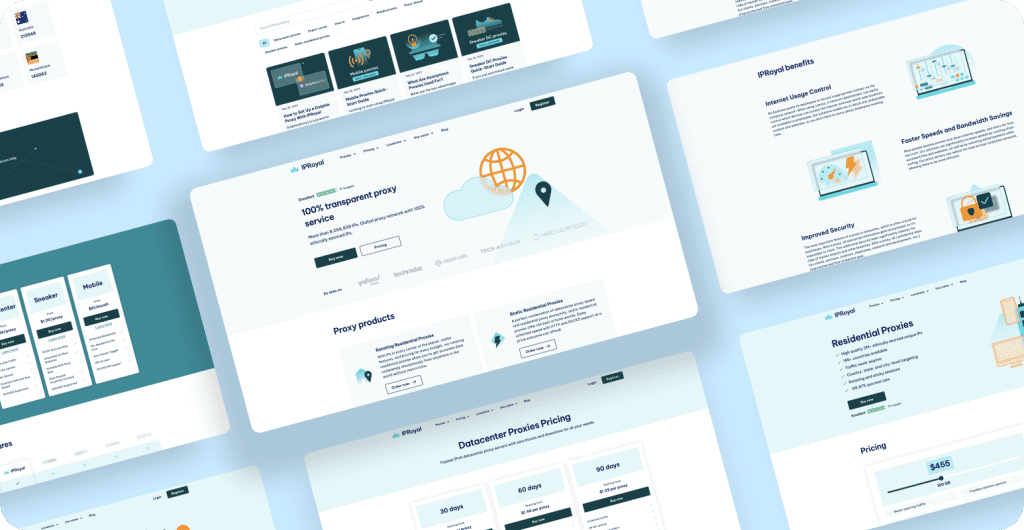 IPRoyal Solutions
Multi-Protocol
Multi-language Browsing
Anonymous Browsing
Policy Management
Remote Access
Use Cases
IPRoyal's residential proxy services are not designed for any specific task. So it's not like those sneakers or gaming proxies.
The proxies provided by IPRoyal are universal and suitable for all use cases. These proxies have proven themselves for various purposes. So we list them below.
Locations
As websites on the Internet become more localized and the content you can access depends on where you are, a proxy service with multi-location support is the right choice. This isn't always the case if you only want proxies from a specific location, as you can stick with a provider that only supports that region. However, for tasks that require access to data from multiple regions, location support is a good option.
IPRoyal service has good site coverage. The network covers more than 195 countries worldwide: Europe, America (North and South), Asia, and Africa. However, these countries do not have the same number of IPs.
The top IP number location terms include Vietnam, Western Sahara, Yemen, and Zambia. This is closely related to the countries where the amount of money earned using the IPRoyal Pawn service is useful.
Pricing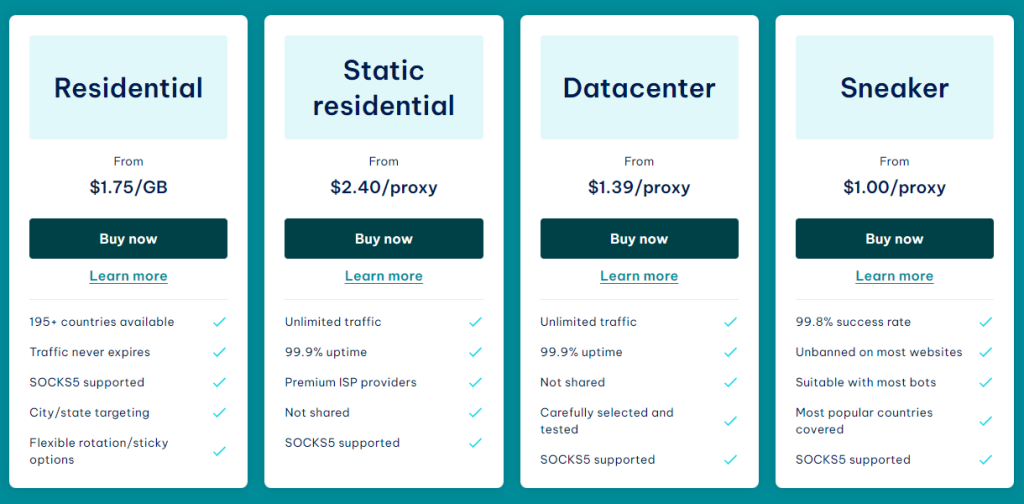 In terms of affordability, IPRoyal's pricing is very competitive. At the time of this review, IPRoyal offers a powerful secure home proxy for just $1.75 per GB. With prices so low, you can watch a movie for less than the price of popcorn at the theater!
IPRoyal Static Private Proxy currently costs $2.70 per month; great for business purposes and more intensive use. With such low fees, an IPRoyal proxy is a good investment for any home or business looking to expand its reach into other markets.
Speed Testing
But where is IPRoyal's advantage in terms of speed? You might be wondering if IPRoyal is fast enough, or if they are frustrating users and never tried their service before. However, there are various tools available for testing the speed of different proxies and their performance. One of these speed test tools is Okla.
But before testing their proxy, you need to test your internet speed without a proxy. Once you have your results, you need to set those numbers as a baseline. Now focus on testing the agent. When you test it, you will see that it takes longer and gives no results. The process of finding the best server takes a long time. It could be that your browser hangs with the following error message. You can try it several times, but the response is always the same. However, switching to a different proxy or using the tool without a proxy worked fine during our testing.
Therefore, IPRoyal proxy is not compatible with speed test tools. But we use it to run various other web services, and it works flawlessly.
Dashboard
IPRoyal dashboard's main screen.
IPRoyal's dashboard is divided into different sections for each product. They allow you to purchase proxies, verify them, and track usage where possible. They even have separate order histories – almost like using six different dashboards instead of one. So all you have to do is leave your tab to change account settings – or deposit funds if you prefer. If you deposit at least $200, IPRoyal activates its reseller tools: a separate dashboard for managing sub-users and an API to programmatically perform the same tasks. The API documentation is well-maintained and supports more than a dozen programming languages.
Payment 
Even the best agent doesn't mean much if it's hard to buy. Fortunately, IPRoyal strives to provide a smooth buying process. Once you have an IPRoyal account, you can buy any proxy directly from the dashboard.
IPRoyal accepts various payment methods, including credit cards, Bitcoin, and more.
IPRoyal processes your payments instantly from your account dashboard, giving you instant feedback and access to your agents.
Because IPRoyal supports secure and semi-anonymous payments, it protects your privacy from start to finish.
Earning 

One of IPRoyal's most famous innovations is the Pawns.app program, which allows users to earn real money by sharing their internet connection. Through the Pawns.app program, IPRoyal gets more private and mobile proxies for its services and you can deposit large amounts of money. The app recently introduced polls, making earning money faster and more fun.
Pawns.app users can earn anywhere from $5 to hundreds of dollars, depending on how many devices they share, their location, internet speed, and bandwidth. A key point is that users always have full control over when and how they share their connection. Even during transmission, IPRoyal takes steps to ensure security.
These days, when everyone is looking for some extra cash, Pawns.app seems like a win-win situation for all involved.
Customer service 
Some proxy providers are keen to make a sale and ignore you once they have your money.
One of IPRoyal's outstanding achievements is its excellent support staff, ready to answer your questions anytime, day or night. Whether you need help deciding which proxy type is best or help to configure your device, courteous support staff will respond to your messages in a timely manner.
Customer support
The main way of contacting IPRoyal Support is via chat, which gives them a direct point of contact. Typical response times for queries are impressive. We got a response within seconds, although as with any business, times can vary.
Due to the global nature of their service and support for many time zones and languages, they currently do not offer phone support. However, we can say that the chat and email support are top-notch and are often praised in the reviews.
We Like
You may not have heard of IPRoyal, but it's a great online anonymity service. They may not have a large number of IP addresses but can maintain quality of service. These proxies have decent speeds and are very reliable.
Additionally, they also handle private proxies and have sticky and rotating proxies, data center proxies, and mobile proxies. However, the best IPRoyal proxy is a premium proxy for consumers. What's more, you don't have to break out of your wallet to access these IPRoyal services. They might not be in the big boys league, but given the quality of their service, they'll be getting there pretty quickly.
Also, they allow you to become part of their P2P network pool and start earning money.