Brightdata.com Review 2023
Bright Data (formerly Luminati Networks) is a data collection and web scraping platform that enables businesses to gather publicly available data from websites for various purposes such as market research, business intelligence, and lead generation. One of the most significant advantages of using Bright Data is its large proxy network, which consists of over 72 million residential IPs in over 200 countries and territories. This means that users can access data from almost any location around the world and can avoid IP blocking and other limitations that can arise when scraping websites.
Bright data Solutions
750,000+ data center IPs
85,000+ static residential IPs
40 million+ P2P residential IPs
7 million+ P2P mobile IPs
IPs available all over the world
Shared or exclusive IPs
Can specify IPs by country or by city
Web console dashboard
Open-source proxy manager
The Unblocker
Chrome extension
API
Pricing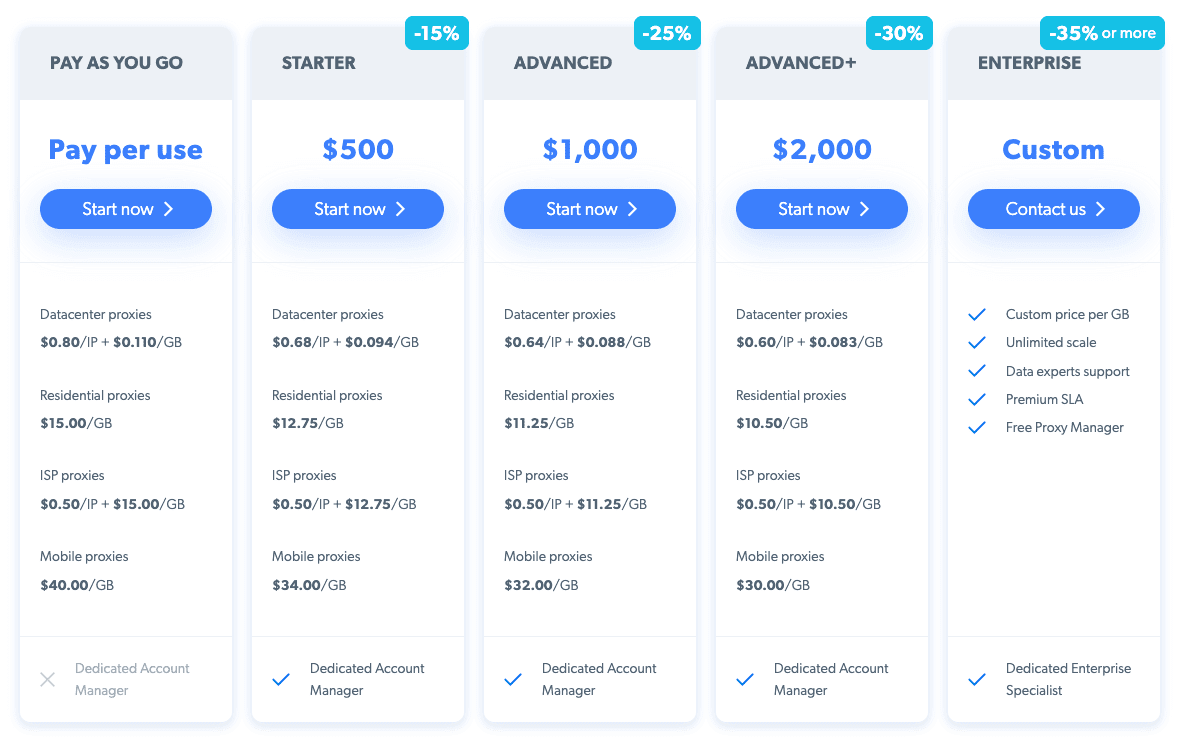 Price is an important factor when choosing a proxy provider to buy a proxy. On the other hand, it's a great indicator of the quality of service you can expect. It also tells us the provider's target user categories. Bright Data is basically a provider of middle and upper-level proxy users such as enterprises. In the past, it took at least $500 to start using their proxy. However, this is no longer the case. The service introduces a pay-as-you-go option that is affordable even for small agency users. Bright Data prices are calculated based on the bandwidth that can be consumed. The pay-as-you-go option is $15 per GB. Additionally, you can purchase a plan for a lower price per GB. The Starter plan starts at $500 per month and includes 43.5 GB.
Locations
The size of a massive proxy pool of over 72 million IPs may be impressive, but the distribution of those IPs in terms of location is more important. This is especially true as we move to web localization, where content is made available to you based on your geographic location. Bright Data understands this need and is able to provide the most comprehensive positioning support on the market. At present, Bright Data has IPs in various countries, most states, and major cities around the world. This wide distribution allows you to extract localized data for any region of the world. Bright Data has a geolocation feature to help. Using the geolocation feature, Bright Data only provides you with IPs from the location of your choice. The geolocation feature supports targeting at the country, state, and city levels targeting. Note that for most regions, the number of available IPs decreases dramatically as you move from the country level to the state level.
Bright Data Speed & Performance Test
Proxies are known to slow down a user's internet speed. For rotating agents in uptown, the situation can be even worse. So when you're shopping for a rotating private agent, you want to buy from a provider who can provide you with an acceptable speed for your assignments. According to Bright Data, they are the fastest on the market today. But are they telling the truth or just marketing? When it comes to speed testing, the only way to know how fast a service is is to test it. Luckily, we already subscribe to them, so we don't have to buy another one to try. We used a custom ping and speed test tool to test Bright Data's speed performance and got the following results.
| | | | |
| --- | --- | --- | --- |
| Website | Download Speed (Mbps) | Upload Speed (Mbps) | Ping |
| Amazon | 34.74 | 37.65 | 40 |
| Instagram | 32.96 | 33.45 | 27 |
| YouTube | 20.43 | 31.46 | 28 |
| Google Search | 27.34 | 38.97 | 21 |
| Booking | 34.54 | 33.98 | 34 |
Compared to the results of other providers, the above speed test results show that Bright Data is one of the fastest-spinning consumer proxy networks on the market. One of the features of Bright Data is that you can create unlimited concurrent threads. But what about performance? Through performance testing, we found that creating some threads does not affect performance. However, once you start creating more than 50-100 concurrent threads, you start to notice performance degradation.
Scraping Success Rate & Response Speed Test
Scraping is one of the main tasks of agent design. This is because they are automated and easily detected by most antispam systems. How does Bright Data fare in this regard? Are their agents unrecognizable or easily identifiable in residential areas? We ran a test with a custom script to see how it would work in a web scraping environment. Here are the answers to the 5 site goals we received. The metrics we are interested in in this section are success rate and response speed.
| | | |
| --- | --- | --- |
| Site | Avg. Success Rate (%) | Avg. Response Speed (sec) |
| Amazon | 97.65 | 1.09 |
| Instagram | 95.76 | 2.08 |
| YouTube | 97.87 | 1.07 |
| Google Search | 98.87 | 1.53 |
| Booking | 94.79 | 2.34 |
As you can see above, Bright Data has proven to be a beast. It has largely remained successful undetected. The average success rate varies by goal, but it doesn't actually fall below 95%, which is impressive. Web crawling was also responsive, with a response time of less than 2.50 seconds. Unsuccessful requests are caused by disconnected connections, timeouts, and captcha popups. However, these are largely insignificant compared to the number of successful requests
Residential Proxies
We ran 1 million connection requests to test the unfiltered pool, then 300,000 connection requests for each of the multiple locations we were looking at.
Avg. success rate: 99.47%

Avg. response time: 1.08 s

Factual pool size: Very large

% of residential IPs: ~98%
Bright Data's residential real estate agencies have proven to be solid performer. We got the most unique IPs from all the providers we tested; the proxy pool is balanced and contains appropriate residential addresses. To give you some background, Bright Data gives us 20 times as many IPs in the US as PacketStream or IPRoyal – a huge difference.
Furthermore, there are hardly any infrastructure failures, and the connection speed of the proxy server is very fast. Bright Data is particularly fast in Europe, with an average response time of about 0.7 seconds. The only other services at this level are Oxylabs (slightly better) and Smartproxy (slightly worse).
Dashboard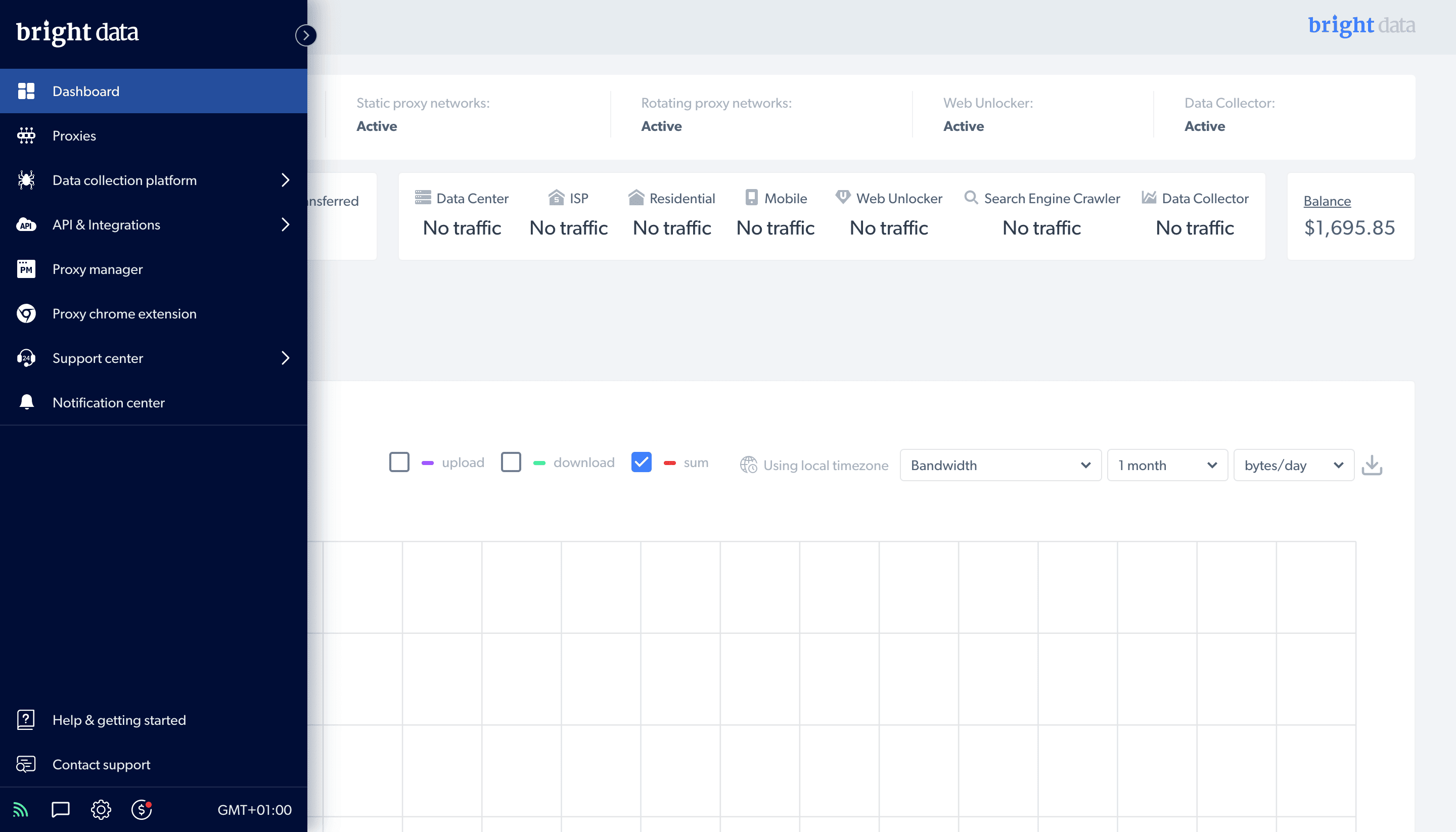 The dashboard enables full self-service: you can do everything from fund your account, set up and authorize agents, view usage statistics, and contact support.
Of course, most of the space is devoted to managing Bright Data's tools. This includes not only proxy networks but also supporting services such as browser extensions or proxy managers. You can also collect data directly from the dashboard using Bright Data's collector tool templates.
Safety is another priority. Bright Data not only displays a list of events affecting logins and zones, it even allows you to set up 2FA authentication to protect accounts. You can receive automatic notifications for unrecognized logins.
One last feature worth mentioning is network status. It shows the uptime of each service in real-time and can send you notifications by email if something goes down.
The dashboard is available in six languages, including Russian, Spanish, Portuguese, and Chinese.
Customer Support
No service or software is perfect, and that's where customer support comes in. And no matter how well-written your documentation is, users of your service will still need some clarification, and not having someone to support it at this point could cause you to lose it. As the market leader, Bright Data should be able to control this problem. If you look at their website, you'll see that they have three different support contacts: general inquiries, sales contact, and report abuse. While this is great, I found one problem with Bright Data's customer support system: there is no live or live chat support. This means you have to wait for a response to your email or support ticket. On the other hand, if you subscribe to any of their plans for $500 per month, you are entitled to a dedicated account manager. This makes it easier for you to contact support and get personalized support. However, if you use the pay-as-you-go option, you will lose that functionality.
Documentation
For such a complex service, Bright Data needed documentation to understand it. Indeed. You'll find answers and instructions in text and video formats.
Perhaps your first resource should be the Bright Data FAQ page. It's big enough to crash some slow computers and answers all the basic questions about using the service. Then there are webinars – they cover narrower topics like avoiding reCAPTCHA and browser automation. There is also a video-based learning center but it looks rather dated and abandoned by comparison.
We Like
99.99% network uptime
Worldwide geo-distribution
Fully compliant and patented
24/7 professional support
Unlimited concurrent sessions
Bright Data offers mobile IPs to advance users
Real-time service health dashboard. Full transparency
Dedicated account managers
Limitless Rotation
Excellent 3-Day Refund Policy and 7-Day Trial Period
We Dislike
More pricing options needed
Not the cheapest provider online
Setup can be complicated
Our Take
Bright Data is expensive, and perhaps unaffordable for many. However, this is largely justified as it offers unrivaled business representation services. This is not only because of the sheer number of IPs offered (hundreds of millions) but also because of the unique peer-to-peer approach to private and mobile IP acquisition. Each of these IP addresses is a real IP address owned by a real person, which makes them more effective than the traditional data center IP addresses offered by most enterprise IPPNs. Bright Data also offers a robust and sophisticated set of tools to help clients maximize the value of the service, backed by excellent customer service and support. So, in many ways, Bright Data is a given for companies that can afford it, as it will undoubtedly benefit your business. Price aside, the only real question is whether you're happy with Bright Data's business model.